2019 Staff Retreat Day 2 Agenda
AffiliatedAdmin.com
---
AffiliatedAdmin.com Let's start from the beginning. Check out the On-Boarding overview for new admins. All Things Admin is your access to Systems, Calendars and more! Need to contact the Central Service staff? Check out the C21 Central Services roster. Search by department or name.
Don't forget to click the map! Check out the Affiliated Footprint by state & office.
Go to AffiliatedAdmin.com on your smart phone to use the roster to call, email, get directions or post to their Facebook account.
---
Darwin
---
Let's Talk About Darwin
October 11th, 2019: Shut down at 4:00pm CST
October 14th – 18th, 2019: Shut Down
October 21st, 2019: System is Live
*Any changes will be communicated company-wide
Shut-Down: AT200 & Transaction Plan will NOT be available. Don't use it!
Go To AffiliatedAdmin/Darwin >
---
R & R: How It Relates to YOU
---
Heather Dotzauer: Admins are the keeper of the company. When you find out about any networking events, spread the word. Post about the meetings and events. Your excitement will determine the agents' excitement about things.
Geri Rose: Best practice for admins, is re-recruiting your own agents. Your own agents will be your best source of who others will be a good fit. Always be conscious of who's coming in the door. You need to have your best foot forward, because when other agents come in, they're checking everything out.
Patti Kremser: There are companies out there that offer enormous commission splits. They see the paycheck being bigger. But those companies do not supply the support that Affiliated can. Being the stellar support team for these agents, is game changing. Even though they're chasing a paycheck, they will not have our services. Not just our tools that we offer, but the people. They need to see the value every day. #AffiliatedStrong
Ruta Susinskas: We need to remember that we are the best Century 21 company in the world. We truly are. I've traveled the whole footprint. I see you working in your offices. I see the numbers. I see the production. You are awesome. We are an awesome company. We need to remind ourselves of this. We need to remind each other this. Coming to these events, these are so helpful.
---
Agent Partnership
---
AGENT PARTNERSHIPS Go to Partnership for directions agent on-boarding with CENTURY 21 Affiliated. Agent Email Questions? Contact helpdesk@c21affiliated.com Go to AffiliatedTraining.com
---
Affiliated Foundation - Day Of Carying
---
Day of Caring 12.3.19 Join us in supporting those with disabilities and special needs to show them we care on December 3rd, 2019. Contact your local Easter seals or community organization to see how you can volunteer your time to help those with physical and cognitive disabilities. For additional posters CLICK HERE tnullo download.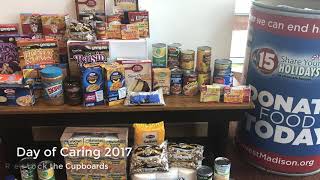 ---
Affiliated Agent Rally
---
2019 Agent Rally ​The CENTURY 21 Affiliated Agent Rally will be hosted at the ​Renaissance Schaumburg Convention Center Hotel | 1551 N Thoreau Dr N, Schaumburg, IL 60173 Ryan Estis will be joining us at the Agent Rally as Keynote Speaker! See Ryan's work at ryanestis.com Agents are to RSVP for this year's Agent Rally by October 8th! ​ COCKTAIL RECEPTION
October 29th, 2019 Nirvana Ballroom / Renaissance Schaumburg 7:00 p.m. CST - 9:00 p.m. CST
AGENT RALLY
October 30th, 2019
9:30 a.m. - 4:30 p.m. CST
Adventure Hall / Renaissance Schaumburg If you're interested in booking a hotel for the event, a dedicated website is now available with a discounted hotel rate. The CENTURY 21 Affiliated hotel room block is limited & closes October 8, or when full - Be on the lookout for future emails containing more information on event speakers, downloading the event app, vendor expo, and more!

If you have questions in the meantime, please contact the Events Team at events@c21affiliated.co.
---
CSS
---
CSS can be used by EVERYONE. Use the tool this week either at home or in the office. Download Sales Meeting CSS Download Recruiting CSS Download Onboarding/Separations CSS Download 1-on-1 Coaching CSS
---
Affiliated Foundation - Fun Run
---
Virtual Strides - Affiliated Fun Run Virtual Strides has directly donated more than $407,000 to dozens of great charities and has helped raise an additional $330,000 more for charity through our Partners Program since our first event in January, 2015. The response to our business has been overwhelmingly positive, with tens of thousands of people participating in our virtual races and applauding our efforts. Go to https://www.virtualstrides.com/
---
State of Affiliated
---
State Of Affiliated Dates Michigan 2/11/2020 Indiana 2/12/2020 Florida 2/17/2020 Illinois 2/19/2020 Wisconsin 2/21/2020
---
21Online.com
---
Reimagined 21Online.com
You will be able to access the new 21Online.com exactly the same way you access 21Online.com today!
Usernames, passwords, and the login URL (www.21online.com) are UNCHANGED.
Office Admins, log in to see the look of the new 21online.com. Please make sure that you are submitting all questions and concerns to HelpDesk@c21affiliated.com.
The current 21Online.com will remain available until October 10th to ease the transition.
The URL to access the current 21Online.com after launch will be classic.21online.com.
---
---